NEWS UPDATES 2011
Most of the information reported on this page will remain, so you can go back and track our predictions and read comments which are of great interest to those who use coupons and refunds.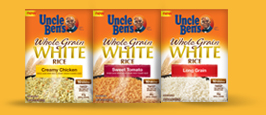 UNCLE BEN'S® Whole Grain White Rice is the first and only whole grain rice that looks and tastes like white rice. Available in plain and flavored varieties, it is whole grain goodness everyone will love.

UNCLE BEN'S® Whole Grain White Rice is available now at select retailers. Check our store locator to see if it is available in your area.
LATEST OFFERS/INFORMATION
Walmart's great new coupon redemption policy change. "Coupons may exceed the price of the item.
Change may be given or applied toward the cost of the basket purchase". This means if you find
a product that is less than the value of your coupon, you can get money back.
Free cpns for Excedrin Migraine and Extra Strength. Go to coupons.com, click on healthcare and go to page 6.
Free Sample Purex 3 in 1 Complete Laundry Sheets. Go to www.trypu rex.com/Purex_3-in-1_Free_Sample/
Coupon for free Chavrie Goat Cheese. Just join the club and enter a valid UPC. Go to: http://www.chavrie.com/chavrieclub.html
GREAT DEAL. Look for bottles of Biore Steam Activated Cleanser with a $15 sticker on them. The stickers have a special code on them. Call the survey number, enter the code, and you will get a $15 prepaid cash card for answering questions about it.
Looking to make extra money doing at home surveys- try Toluna, several subscribers recommended this company
Be on the lookout for wine and beer forms which offer rebates up to $5 on food items. Some of these forms require no wine or beer purchase. Check out hangtags on bottles also.
For more great offers like these, subscribe to the print edition of Refund World Magazine.
ONE A DAY MENS VITAMINS FINED.
Enzyte "Male" Supplement Found to Affect Heart
FDA Warns of Stimulant in Slimming Capsules
FDA Charges Deceptive Advertising by POM Wonderful
Misleading Claims by "One a Day Men's" Products Result in $3.3 Million Settlement
On October 26, 2010, Attorneys General from California, Illinois and Oregon announced a $3.3 million dollar settlement with Bayer Healthcare over the company's alleged misleading claims that its One A Day Men's multivitamins reduced the risk of prostate cancer. The Attorneys General alleged that Bayer deceptively claimed its One A Day Men's multivitamins reduced the risk of developing prostate cancer and that Bayer made these promotional claims even though the company knew or should have known its multivitamins do not decrease the risk of this cancer, and that high doses of some ingredients in the vitamins may actually increase the risk of prostate cancer in some men. "Consumers rely on statements made by multivitamin manufacturers when making choices about their health," Attorney General Madigan of Illinois said. "When manufacturers, like Bayer, make marketing claims with insufficient scientific proof behind them, they are misleading consumers. This lawsuit ensures that Bayer must back up its advertising pitches with reliable scientific evidence." Bayer's "Strike Out Prostate Cancer" campaign, in which the company partnered with Major League Baseball to promote the One a Day Men's products, was highlighted as an example of the allegedly deceptive marketing claims. In that campaign, Bayer used billboards, print and broadcast advertisements, and testimonials from professional baseball players to make implied claims that One A Day Men's Products reduced the risk of prostate cancer. Under the terms of the settlement, Bayer is prohibited from marketing its One a Day Men's products as preventing prostate cancer, or any other disease, unless the claims are based on competent and reliable scientific evidence.
All current news updates are posted in Refund World print edition.